Road trips in 2CVs
Group trips in 2cvs, led and organized by people who love Citroen 2cv cars just as much as you do.
See all 2CV Events
Take a road Trip in CLASSIC Citroen 2CVs

2CV Travel takes you on unique travel adventures, where you meet other people who share your passion for this classic car, Citroen 2CV.
And all the planning will be done for you!
You just drive!
EXPLORE CROATIA'S MOST BEAUTIFUL PLACES FROM THE BACK OF YOUR VINTAGE CITROEN 2CV
Croatia is a land of breathtaking beauty. And we'll take you driving through Croatia's most beloved spots and some hidden gems, together with other 2 CV lovers.
Create Lifelong Memories with Other CLASSIC Car Lovers in 2CVs
It's not only the beautiful sights that make our tours memorable but the great friends you make along the way.
Stories you shared and the unforgettable memories of the French classic car that will last you a lifetime.
See all 2CV Events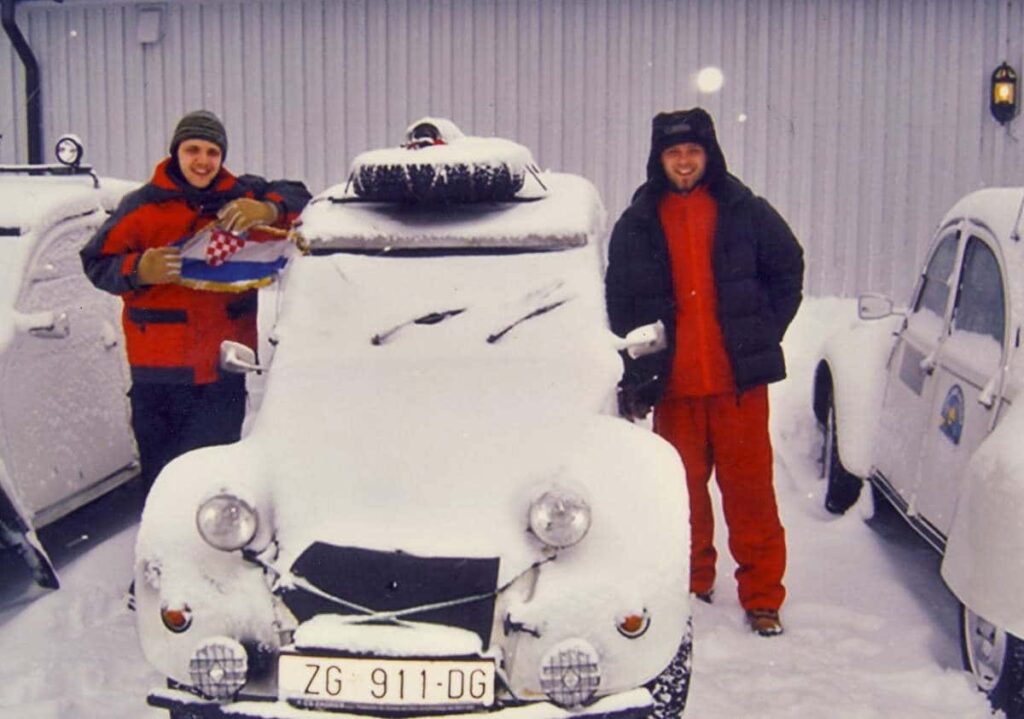 Raid Laponie 2004
Raid Australia 2008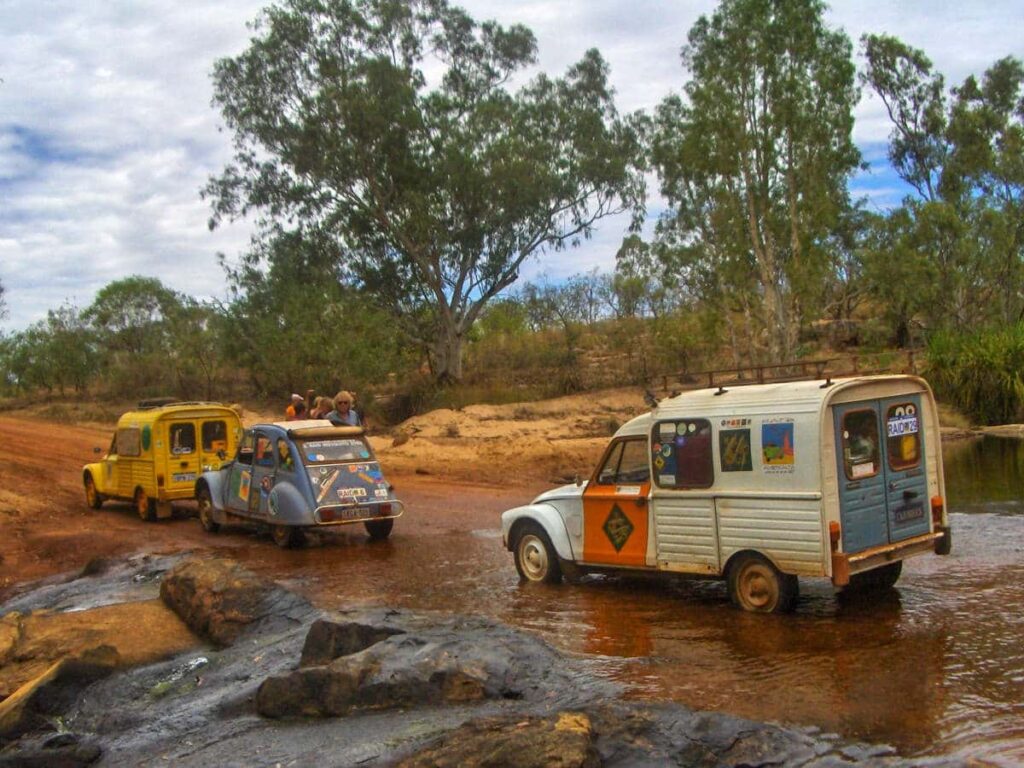 You'll be in great company OF VINTAGE FRENCH CAR LOVERS
With over 20 years of experience, in driving, restoring and tuning Citroen 2CV's, you are in great hands!
We took our beloved Citroën 2 cv classic cars around the world. From wide, open spaces of Australia to the long, Eerily beautiful icy mountains of Finland. And the best places in Croatia.
Our team of specialists will ensure that your 2cvs run smoothly throughout your journey, making your holiday stress-free, from start to the end. And you can get it fully restored!
Join Us on a Citroen 2CV Road Trip
Share Your Ideas for Future 2CV Travel Adventures
2cv world meeting 2023
We were at 24th 2cv World Meeting 2023 in Switzerland – Region Delémont, held 25.7 – 30.7.23.
Frequently asked questions
2CV tours are priced and sold PER PERSON attending.

We use WeTravel.com payment processor. To book a tour, when inside a desired tour, click the "Book Now" button.

Then just add number of participants and whether you want to pay a deposit (pay in instalments). Click continue, and in the following screen add your data.

What are the payment options?

You can pay with most credit cards. 2CV Travel uses WeTravel.com booking service, and the payment processor is Stripe.

Do I need to have a 2cv car?

Can young children participate in tours?

Yes, but only accompanied by adults. There's a 15% discount for children up to 12 years of age on all 2CV tours.

Can I pay in installments?

Yes, just select it on the first screen after clicking BOOK NOW.

If you love Citroen 2cv cars, you'll love 2cv Travel

2CV Travel – 2CV raids and tours in 2CV cars

Deux chevaux, Tin snail, The Duck…

We are a group of passionate 2cv lovers who love to tinker with our vintage cars, fix them, tune them up, repair, convert to four-wheel-drive and make custom 2cv parts for sale. Design, chassis, wheel, seats, doors, rear windows, gearbox, brake, headlight – we are passionate about all things related to 2cv's, and we're always looking for new ways to share our love of the little French car.

We are travellers and enthusiasts. And always up for a new adventure, as we love to go on 2cv raids, tours and events with other 2Cv owners. And we're members of Croatian Citroen 2cv club.

We love to go on road trips, camps and events with other 2CV cars enthusiasts. From family holidays to road trips and camps in remote places, we have seen it all with our 2cv's. Nordkapp, Australia, Sahara and many more.

We have over 20 years of experience, in driving, restoring and tuning 2CV's. We love to tinker with our 2cv cars, tune them up and fix them. Nothing like a special edition 2cv, 2cv 4, Dyane, Charleston, Fourgonette… Pure classic car passion. It may be a small car, but it has a great heart  🙂 Read more about 2cv restoration and parts.

Citroën 2cv raids

adventure awaits

2cv travel offers adventurous activity tours, raids and road-trips across Croatia and beyond. We have everything you need to make your Citroën 2cv dream come true – from hand-picked vintage cars for rent, to awesome parts, accessories and knowledgeable advice – at prices that won't break the bank.

Our team of passionate 2CV lovers will share their knowledge and their experiences with you.

Our passion for Citroen 2cv cars is what keeps us going!

It's never been easier to become an explorer. Experience the world with a 2cv.

2cv travel is all about the experience

Whether it's exploring the countryside in Croatia or taking on a 2cv raid across Africa – we know what you'll love best!

2CV FAQ, HISTORY OF THE CITROEN 2CV

2cv FAQ

Who made the 2cv car?

The 2CV car was made by Citroën, made in France.

What does 2cv stand for?

2cv stands for "deux chevaux", meaning "two taxable horsepowers". It's not related to actual power of the car, but to tax clasification of the time.

Will Citroen bring back the 2CV?

No. Citroen boss confirmed it.

Things to know about 2CV

1. The original Citroen 2CV, also known as Deux Chevaux, or "The Duck", was designed as a vehicle with economy and convenience in mind.
2. It provides minimalist motoring in a spacious package and is still used with enormous fun to drive today. It's available in different model variations, including a van.
3. With impressive fuel consumption, the 2CV can achieve around 45mpg and hold 60mph.
4. Pierre Boulanger specified that the car's fuel consumption should be around 3 liters per 100 kilometers.
5. The 2CV was built to be reliable and durable, but as a classic, there are still a few things to look out for with the engine.
6. The top speed of the classic 2CV varies from 40mph to 75mph, and it's not worth fitting a radio due to general noise.
7. The 2CV was initially released in 1948. 2cv production remained until 1990, with over 5 million units sold worldwide.
9. The car has a unique suspension system that provides a smooth ride, even on rough terrain.
10. The Citroen 2CV is a true icon of French motoring history, beloved by enthusiasts worldwide for its quirky charm and practicality.